Simply handing out candy on Halloween is so 2004. Instead, think of this holiday as an opportunity for self-promotion. Struggling songwriters, head on over to Leiper's Fork and pass out those demo CDs! Bloggers, don't forget to scrawl your URL on your candy wrappers! Arbonne consultants, pass along those samples as a special treat for mom! Political candidates, well, I'm pretty sure you're already all over this one. I myself will be handing out copies of the
Scene
tonight, along with some "Hugs, not Drugs" cards I had made up for the occasion.
I'd like to say I came up with the self-promotion idea myself, but the fact is I got it after my stepdaughters brought this home in last year's Halloween bags: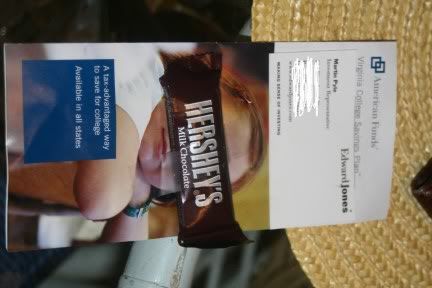 Pure genius! I mean, who's
not
thinking about college savings on Halloween night? Particularly when there's chocolate involved! So readers, I urge you to follow Marty's lead. For the love of Mars Bars, don't let tonight's promotional opportunities pass you by!